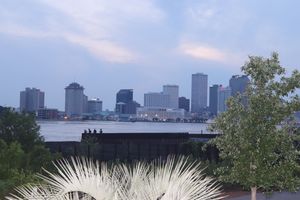 Biography
Lost Dogg was born at Charity Hospital and raised in New Orleans 9th ward. His roots spread deep through the N.O, as he has lived and does business all over the city. In the 9th ward, he started his rap career at age 14, along with the introduction to the drug game. This is not a game at all. Many family and friends of Lost Dogg have lost their lives to this "game" - specifically his two cousins, Hollis and Troy. Both were victims of gun violence in 1996 & 1997. Feeling as if he had lost two g's – Ganstas/Doggs to the game he chose to adopt the name Lost Dogg. 
His music represents "the bridge between gansta and conscious rap". It's a raw representation of a southern thinker. He blends his lyrics with thoughtfulness and aggression to convey a message of consciousness. His musical influences include ,Soldier Slim, Tupac Shakur, Eightball & MJG, DMX , Mac The Camouflage Assassin to name a few. 
Uniquely crafted lyrics make Lost Dogg stand out among the crowd. The delivery in which his words are spoken gives a trumpeter tone. Lost Dogg is focused on sounding the alarm to wake a sleeping giant, All Peoples. United to end Poverty, Injustice, and Blasphemy, Lost Dogg will lead the charge to World Peace. Really, he believes that. Lol 
Using a huge vocabulary, and wealth of experience, Lost Dogg does not shy away from Social Issues, Political Issues, Hood Issues, or Life & Love issues. If there's a problem that affects people, then it's a topic of this very fluent artist. When listening to a Lost Dogg's songs one can feel the passion and love he has for his craft! You can feel the struggle in the deep rumbles of his tone. Take a listen and you'll become a fan and participant of the movement!